En cette période pascale, l'occasion était belle de découvrir de nouveaux plats typiques finlandais. Que mange-t-on à Pâques, dans un pays où la neige commence tout juste à fondre ?
Pour le vendredi saint, j'ai accordé la tradition catholique (pas de viande) avec la gastronomie locale et je me suis offert mon plat finlandais préféré: du saumon fumé. A cinq euros le kilo, pas question de se priver... Attention, il ne s'agit pas ici de saumon fumé "à chaud" comme celui que l'on trouve sous forme de tranches très salées en Belgique; il s'agit de steaks de saumon traditionnellement cuits "à la fumée" dans un espèce de barbecue à deux étages. Le saumon est placé assez loin au-dessus du feu de bois, la fumée lui arrive presque froide et le cuit lentement. Sa chair reste donc particulièrement juteuse, avec en plus un petit goût de bois tout à fait irrésistible... En l'absence d'un tel barbecue, on achète au supermarché un emballage aluminium à double
épaisseur où l'on dépose le poisson; dans la "doublure" se trouvent des copeaux de bois et l'on met l'ensemble au four. Le résultat est assez ressemblant. On mange le poisson avec une sauce froide faite de fromage blanc, d'aneth et de salade de cornichons (une autre spécialité d'ici). Le mélange est légèrement sucré et étonnamment bon.
Pour le jour de Pâques, la tradition impose, comme un peu partout, le gigot d'agneau. Tandis qu'en Belgique on le laisse bien rosé, ici il est cuit à point. Mais c'est le dessert surtout que l'on ne peut pas rater: le fameux
mämmi
... Incontournable, mais à manger les yeux fermés, de préférence, pour ne pas avoir l'impression de s'attaquer à une crotte d'hippopotame ! Il s'agit d'un mélange à base de farine de seigle et de malt, avec quelques zestes d'orange en plus (mais ça, faut le savoir...), ce qui lui donne une couleur bien noire et un arrière-goût amère. Avec du sucre et de la crème, ça passe beaucoup mieux que ce que son apparence laisserait présager. Bon, ce n'est pas (et de loin) mon dessert préféré, mais y goûter fait partie de l'examen de passage vers l'intégration finlandaise...
During this Easter period, I took the chance to try and taste new typical Finnish food. What do people eat in a country where snow is just starting to melt ?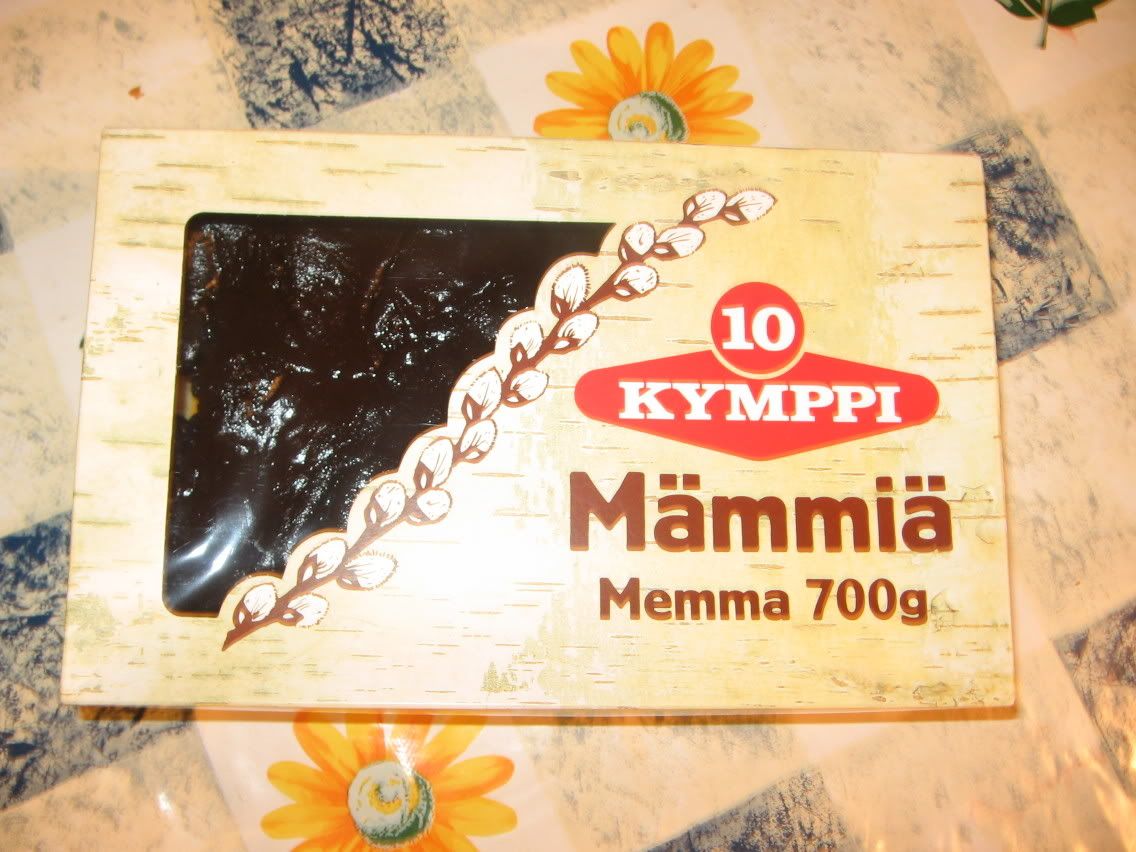 For Good Friday, I fitted the catholic tradition (no meat) with local gastronomy and I enjoyed my favourite Finnish dish: smoked salmon. For 5 euros a kilogram, no need to feel guilty... But I am not talking of "hot" smoked salmon which is available in Belgium, cut in slices and heavily salted; it's salmon steaks cooked with smoke in a traditional fashion, using some kind of a two-stories barbecue. The salmon is kept at the upper level, quite far from the fire, smoke gets to it while being almost cold and it cooks the fish slowly. When ready, the fish meat is very juicy and has a taste of wood which makes it quite irresistible... When you have not such a barbecue at hand, you can buy some sort of aluminium bag in a supermarket. It has two openings, in one of them there are small pieces of wood, in the other you put the salmon and cook everything in an oven. The result is quite similar. You eat this salmon with a cold sauce made of cottage cheese, dill and pickle salad. It's a little sweet but surprisingly delicious.
For Easter day, the tradition imposes, just like in many other places, lamb meat. While in Belgium you keep it almost raw inside, in Finland it's rather more cooked. But the unmissable part of the meal is the dessert, the famous
mämmi
... Under the condition that you eat it while keeping your eyes closed, unless you can't help but have the feeling you're eating some hippopotamus shit ! It's actually a mix of rye flour and powdered rye malt, plus some orange peel (but you can't really guess it by yourself), which gives it a very black colour and quite a sour taste. When eaten with sugar and cream, it doesn't taste as bad as it looks. Ok, it's not (by far) my favourite dessert, but it's definitely a "must-try" on the path of Finnish integration...